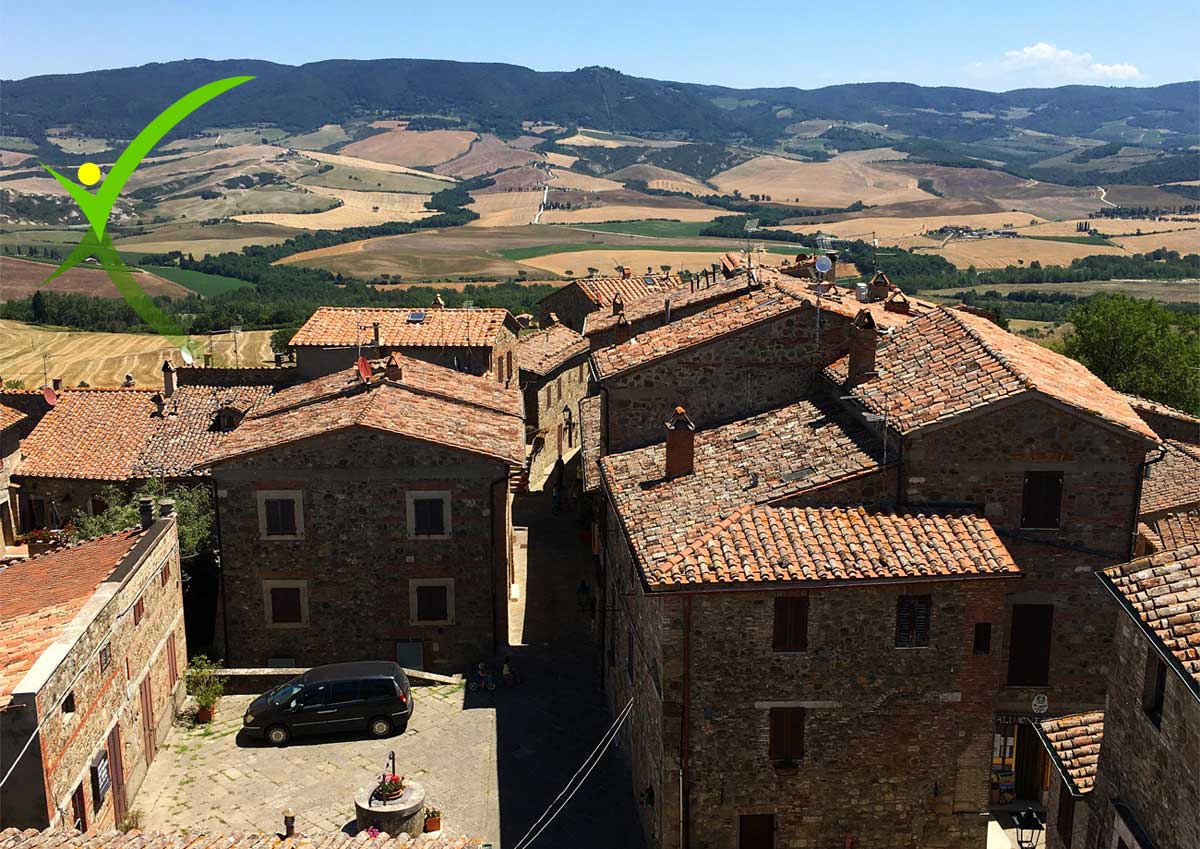 Contignano is a small village belonging to the municipality of Radicofani, immersed in the fascinating Val d'Orcia. It has very ancient origins, like all the villages in the area of ​​Mount Amiata. The first villas were built since Roman times. The Aldobrandeschis took over the lands of the village which were in turn ceded, in the Middle Ages, to the Abbey of San Salvatore. In 1300 it was the powerful Sienese families who acquired hegemony over Contignano, who had to abdicate against the Florentine state at the sunset of the 1700s.
When the traveler enters the ancient part of the small town, he cannot be fascinated by this medieval jewel. The ancient inhabited center is formed by the very particular castle and the village. Obviously, the whole thing is built with volcanic rock. The only of its kind are the keep tower, the square with a well and the noble palace. There are two access roads to the castle and in one of them we find the Church of Santa Maria Assunta.
The church, under the mayor of Abbot San Salvatore, acquired a certain notoriety. Inside there are paintings of the crucifixion, statues of the Madonna and eighteenth-century documents. Outside the castle, we find a small but characteristic village formed by the chapel of San Rocco and a stately building. In the Middle Ages, Contignano was famous because it was the seat of one of the "hospitals" of the Orciana area. These places, run by religious, provided assistance to pilgrims.
The medieval village also offers entertainment for modern travelers who "get lost" among the wonders of the Val d'Orcia. During the Christmas holidays various events take place, the most characteristic is the living nativity scene. However, it is summer that attracts the most attention. In July the medieval festival takes place; the customs and habits of the time are resumed accompanied by "poor" dinners and musicians. The ravioli festival is famous in the Amiata areas and beyond. The goodness and simplicity of the tortelli sweeten the palate of the finest critics. All this is accompanied by the body of the local wine, the hugs of friends and the reddish colors of the breathtaking sunsets.
You can find more information about the village on the Wikipedia page.