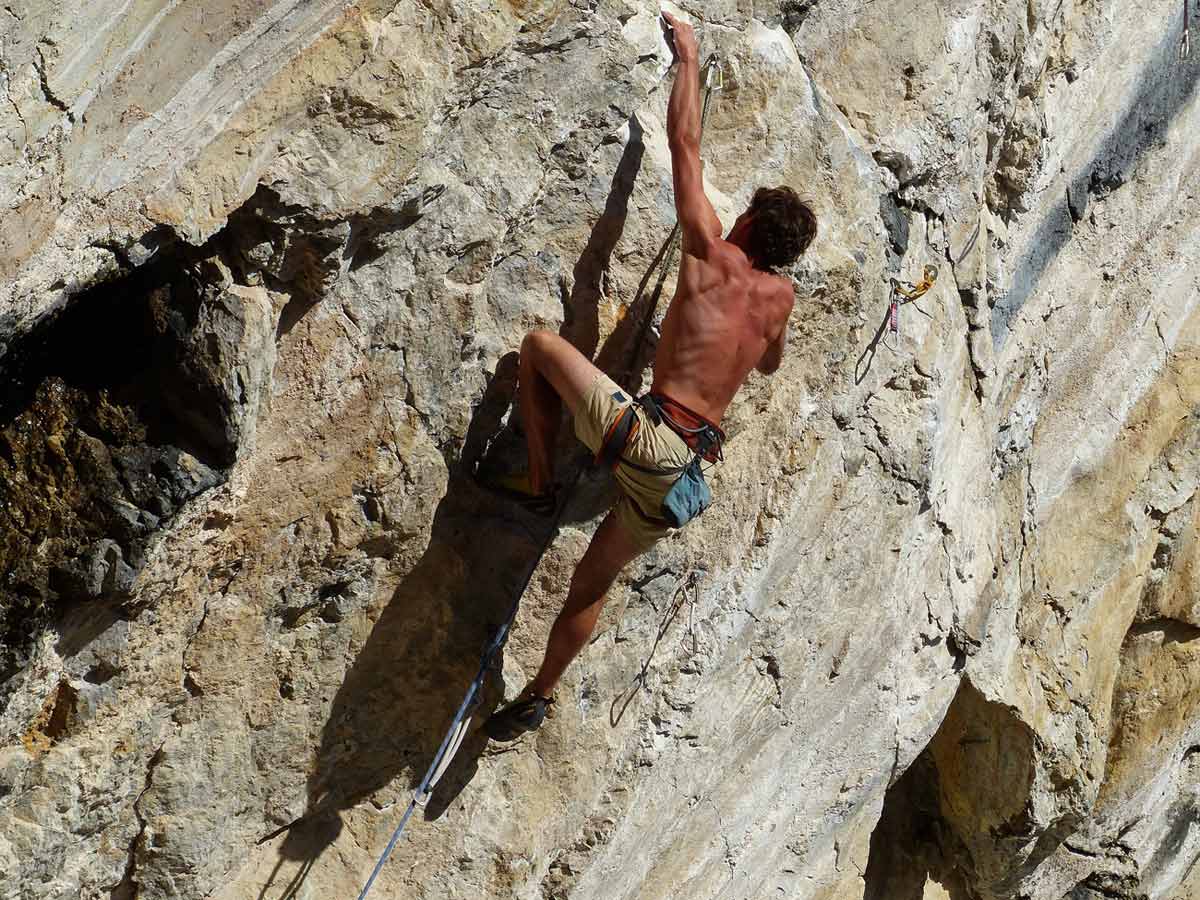 Mount Amiata offers many entertainment possibilities for sports lovers in close contact with nature. From a simple walk in the woods to downhill, also considering mountain biking and trail running. Many famous people express a certain passion for the Tuscan mountains and sport; just think of Jovanotti who has repeatedly reached the Amiata peak by bicycle. But there is a sport that perhaps is not considered enough because it is little known: free climbing or free climbing on a cliff, that is, on rocky walls in a natural environment.
In the mountain there are many types of rock deriving from the activity of the ancient volcano and some of them have formed, among other things, rocky walls. The trachytic rock allows athletes to have a good feeling in the climbing phase and, in fact, there are many climbers who have given positive feedback on the Amiata cliffs. Climbing has been practiced assiduously for about a decade on the Amiata, especially in the summer months and in the mid seasons. Lately, there has been some interest in bouldering too.
In bouldering, walls or stones with a height of 3/4 meters without harnesses are climbed. Protective mats are placed in the ground to mitigate a possible fall. In classic climbing there are ropes and harnesses that allow a safe ascent. Usually, the expert climber "opens the way" for other sportsmen and, if the climb is difficult, he uses pegs to facilitate it. In the cliffs we find cavities and natural protrusions that allow a congruous movement for the sportsman.
Where to practice Climbing on the Amiata
This is not an easy sport. Both bouldering and climbing have a certain level of danger and, obviously, the rock climber must be loose and accompanied by experts in the field. On the Amiata there are many rocks and walls, not of great height, where bouldering can be practiced. Climbing, however, is carried out only in some specific places. Two of them are in the municipality of Santa Fiora (Sasso Corbaio e Mura del Terraio) and two in the municipality of Castel del Piano ( Scalonaia and Tepolini).
However, there is a particular place that can be glimpsed when a tourist travels to the road that connects Abbadia San Salvatore towards the Amiata peak. A famous stone guards the passage of tourists: the Sasso di Dante. This rock, characteristic for its shape that recalls the profile of the great poet, is also a meeting point for climbing enthusiasts. In addition to Dante's climbing, there are also two others nearby: the Catarcione and Hollywood . The highest wall in the area reaches 30 meters, climbing takes place in pairs, rock climbers use natural holds and, thanks to the different exposures of the cliffs, it is possible to climb throughout the year.
Obviously, most climbers gather in this piece of land, both for the many climbing routes (approximately 100), and for the beauty and safety of the place itself. It is not common to be able to claim to have climbed "Dante". But there is a particular area of ​​Mount Amiata, where passion for sport, effort, determination and desire to reach the summit come together. This area is surrounded by wild nature and always accompanied by a light breath that alleviates the ascent of climbers: this unique place is Dante's stone.
Luca Sbrolli