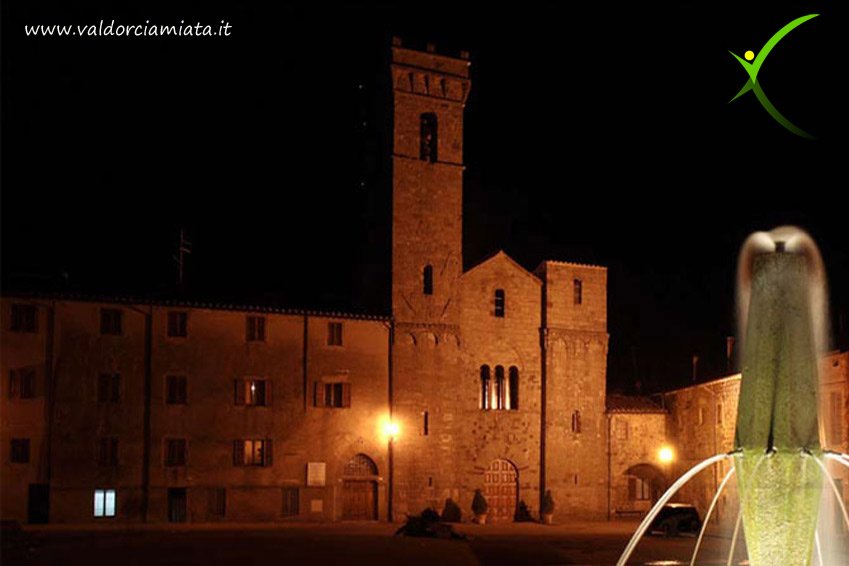 There are many reasons to spend few days in Abbadia San Salvatore during your holiday on Mount Amiata and many are the opportunities offered by Abbadia, and to come back.
The village's history is closely linked to that of the Abbey, which dates back to 1035 and is definitely one of the main attractions for tourists. The Abbey, located in the center of the village, has been for long time the heart of a great power exercised by the monks. The historic center of the village, called by Badenghi (local people) "paese vecchio", is developed around the many churches and it still maintains many of its original features.
But the village is not only known for the Abbey. Some of its popularity is due to one of the most productive mercury mines in the world, founded in the early '900 by the Ing. Friedrich Hamman. The mine remains can still be seen, just outside the village, by following the road to the summit of Mount Amiata. The mine, which was active until the mid-70s, is now home of the Mining Museum, visited each year by tourists and students.
Abbadia is high 829 meters above sea level and this means that in summer the temperature is never too hot and in winter, even if hard, the climate is dry. The proximity with the wood, is ideal for people who wish to stay in the village and do in summer and winter trekking on many path in the mountain. In winter Monte Amiata is also a fully equipped ski resort, where you can enjoy downhill skiing, cross-country skiing, as well as walks in the snow with snowshoes.
The little town is also becoming known as the "Città delle Fiaccole" for traditional bonfires that light up the night before Christmas in every corner of the village, attracting thousands of visitors and tourists all over Italy.
Not to be missed the "Festa Medievale per l'offerta dei Censi" which takes place the second weekend of July and the "Festa d'Autunno" or Chestnut Festival which takes place annually on thesecond and third weekend of October to honor chestnuts, fruits of nature which for years have fed our ancestors.
In addition to chestnuts, among the typical products of this village, we remember the pear "picciola", so named because of its small size. It has recently been included in the list of traditional food producted in Tuscany. It is a rare fruit, not very sweet, grainy pulp, which in the past constituted an important source of income, along with the chestnut.
In Abbadia you can also find excellent restaurants which offer the best local and Tuscan products, including the famous mushroom soup in a bread crust and the "ricciolina", a typical dessert of Abbadia San Salvatore made with almonds and chocolate.
There are also excellent hotel, bed and breakfast and agritourism where you can spend a peaceful holiday; you can find them all on our "where to stay" page.
We wait for you.
What to see
Abbey of San Salvatore
Church of Madonna dei Remedi
Church of Madonna del Castagno
Church of San Leonardo
Church of Santa Croce
Church of Santa Maria dell'Ermeta
Cross of the Mount Amiata
Cinemas, theatres and museums
The Cinema Theater Amiata
Servadio theater