Tourists who will stay in Mount Amiata will be immersed in nature and history but there is also a very particular place that will capture them spiritually: we are talking about the Merigar. Literally the meaning of Merigar is "The residence of the mountain of fire". Romantically, we can think that this refers to the magmatic activity of the ancient volcano now extinct, or to the pyric element that represents the fire of the soul that burns within us.
In reality the "Gar" is a large meeting center. In Europe there is only one other in Romania. The Merigar was founded in 1981 under the teachings of Chögyal Namkhai Norbu and represents the first "Gar" concerning the International Dzogchen community. This community is based on respect for nature and living beings, compassion and non-violence. The famous center was built in a magnificent area that conveys the impression of having been catapulted into another era. It is located in the municipality of Arcidosso and right on the slopes of Monte Labro.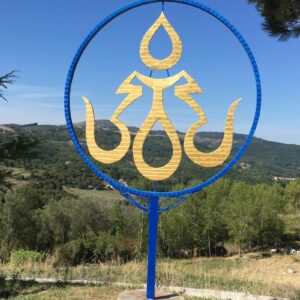 In this Tibetan center, where Buddhism and more are taught, there are different structures. The "temple of great contemplation" is the largest structure, designed by Norbu himself, built with natural materials. The center features a beautiful lotus flower and numerous paintings and decorations. The "stupas" are a reliquary monument which aims to enlighten the mind. In "La casa dello Zi" (Zikhang) there is the Mandala room and the library with numerous religious texts. The other buildings are: the cinerary and the yellow house (Serkhang).
The Merigar has a certain international relevance also because it is active throughout the year. The possibilities of accessing the center are varied and for all types. First of all, there are numerous cultural events, conferences and meetings between theater, music, dance and art; but also more particular workshops and seminars such as the one on the use of the voice and creative writing. For the more curious, it is also possible to follow the activities most closely linked to the master Norbu. Here are some examples: Yantra Yoga, Vajra Dance, Meditation and joyful Khaita dances.
Some world celebrities have crossed the threshold of the Tibetan center to witness the beauty, serenity of the place itself and to relax the mind. Some of the best known are the Dalai Lama and Richard Gere. In the Merigar it is possible to seek introspection and find harmony with oneself thanks to the various practices and social enrichment of which it is possible to be part. That of Dzogchen is an open community that allows everyone to participate and to move away, at least temporarily, from the chaos of contemporary life, rediscovering ancient wisdom.